First understand, then do better.
The helmets
otherwise
: a
medical
and
technological concentrate
CE homologated and
more than that
: adapted to the inner structure of the head.
Nature is so well done and we should respect it. BiOS is the first helmet that respects the
natural protection mechanisms
developed during milions of years of human beings evolution
that the security standards still ignore.
You can now test it for free during 15 days. Click here.
POLYVALENT INTELLIGENT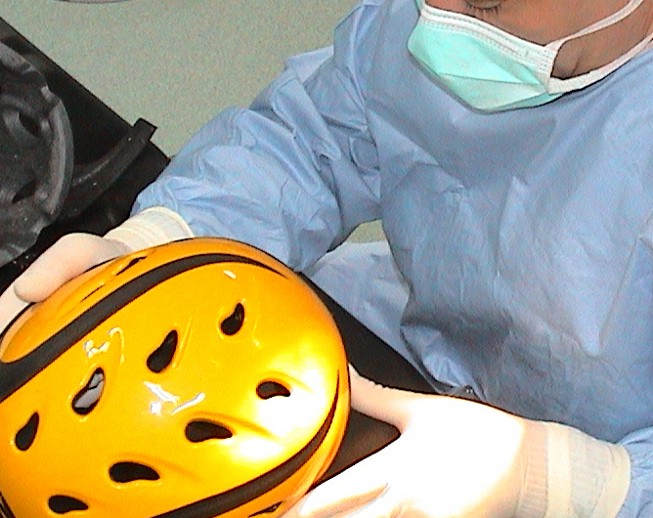 ---



Useful innovation in protective helmets:


It is impossible to predict the location of a head impact. Meanwhile the consequences vary a lot according to the point of impact. Beside an improved dampening compared to the classical helmets, BiOS also fights against the hazard by resorbing the impacts toward the maximal resistance points of the human head. This new dimension of the head protection devices construction opens new developpement opportunities in all types of protective helmets. (the anatomical concept is patented and recognized by the French Research Ministry)

about head impacts and protective helmets (click here) > > >

---




It is as "simple" as that:



Live the evolution and watch your head.


---

---

During my neurosurgical activity I have examined and operated several thousands of head injured patients.
Some among them were wearing helmets during their accidents and thus I started, several years ago, to study the brain injury biomechanics and the protective helmets.
After some years of hard work, we are proud to bring you the first BiOS
- a pure concentrate of medical and technological knowledge -
for a maximal protection within a minimal volume.



What pushed a neurosurgeon to make himself the new BiOS helmets ?
The amazing history of BiOS on the Company page.




Extreme protection


More than a helmet, BiOS is an anatomical, intelligent and unique protective device.

Anatomical because adapted to the structure of the human head, and not only to its shape.

Intelligent because working differently according to the location and to the energy of the impact.

Unique because internationally patented.


---

Research


By choosing BiOS, you benefit of all the medical knowledge on the cranio-cerebral traumas. In the mean time you support the scientific research since a significant part of our resources is reinvested in the biomechanical and medical research on head trauma.


Polyvalent & MultiSport


More than a helmet, BiOS iNSTiNCT is a polyvalent and multi-sports head protection device: bicycle, roller and skateboard as well as kite surfing, rafting, kayak, jet ski, paragliding and other outdoor or indoor sports.

---

BiOS recognized by the French Insurers Association (AFSA)


Accro paragliding video
Support now the Dessenheim firemen project
Click here to recommend this site to family and friends
---
> > > > > > > > > > > > > > > > > > > BiOS mini-blog > > > > > > > > > > > > > > > > > > >
---
Acting without judging is dangerous. Judging without acting is useless.
Research is always a question of money. Discoveries are not.
Counting is dangerous if not based on healty judgement.
Everything is relative, except the truth.
web site optimised for Internet Explorer, Firefox, Opera
index casques